Okay, I better warn you - in case you might scream in panic or faint when seeing spiders: do NOT continue to read! This is a tough one - I have to admit all pictures below were taken by my brave boyfriend, while I was taking shelter inside a small shop! haha!
When taking the bus from Phnom Penh to Siem Reap, the bus stops for a short lunch break in the middle of rural Cambodia. This part of the country is widely famous for being a place where large spiders are on the daily menu of the people living there. I have seen this on TV, I read about it. But I was not prepared for what happened once I got out of the bus.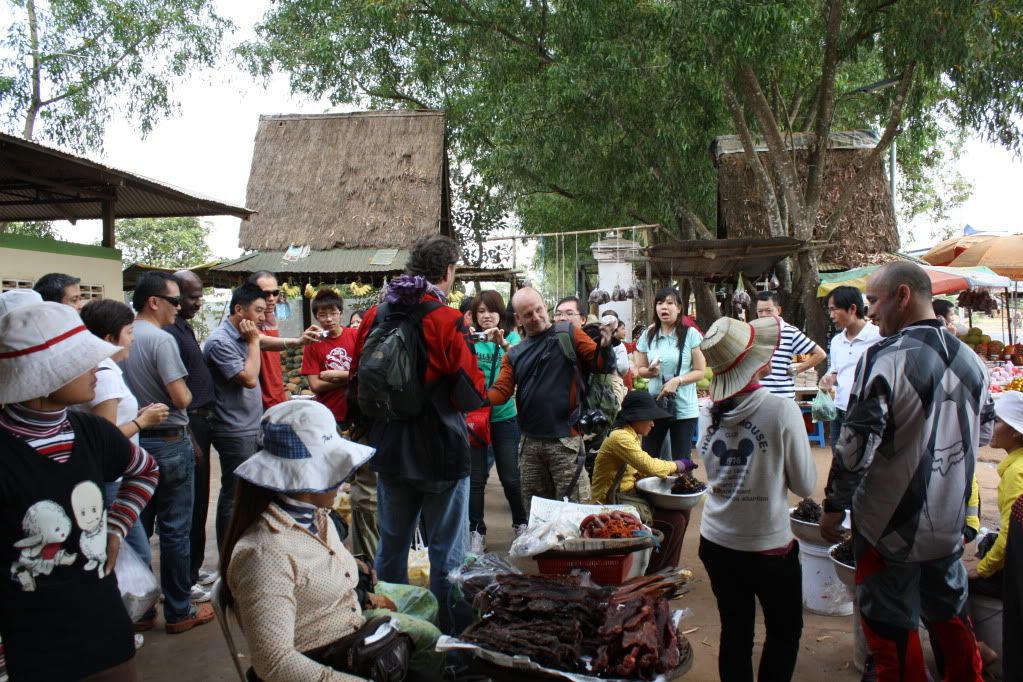 We were instantly surrouded by girls who wanted to sell us fruits and other snacks. Nothing special. But then my boyfriend whispered in my ear " do not freak out but the girl next to you as a HUGE spider sitting on her shirt". For sure I turned around in increasing panic and almost jumped back 5 meters when I saw this: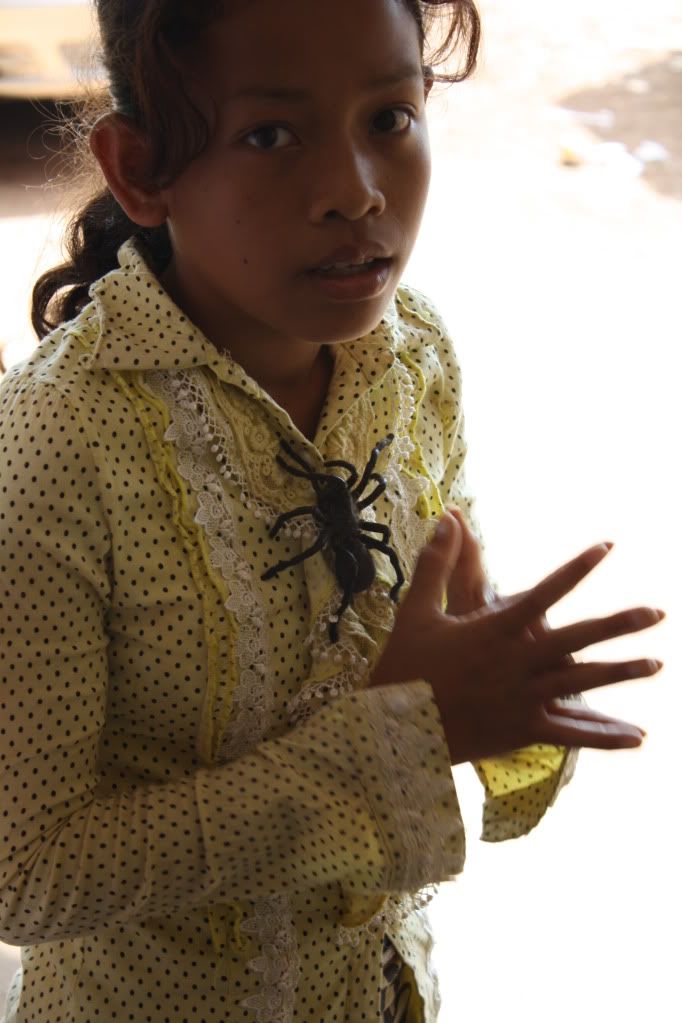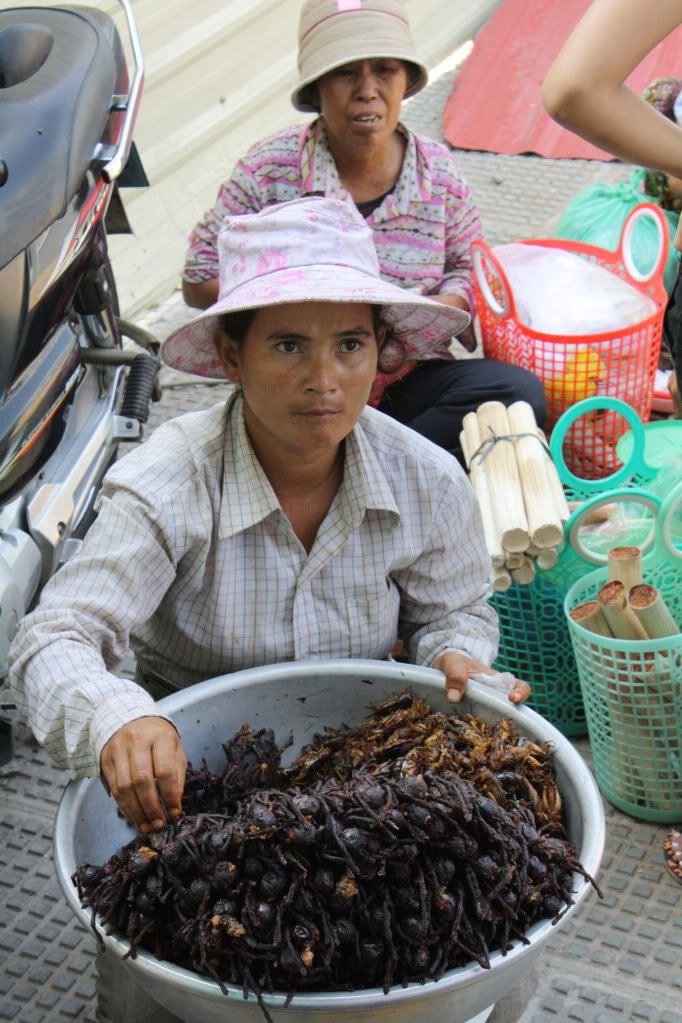 The girls where not only selling fruits, but also the famous snack: spiders. But no, they do not fry all of them, some are kept as little pets - alive! on their shirts!
They were having a great time following travel-girls like me who ran off in sudden panic and selling their fried spiders to brave men who actually tried the local snack (the guy on the first picture actually ate a fried spider).
I was so glad once the bus was ready to set off, but the local girls were very persistent in their attempt to sell their fruits, drinks, whatsoever and they followed us to the bus. Looking through the open door directly at me, one of them said: "hey miss, if you don't buy something from me, I will put my spider in the bus" - and then she smiled her sweetest smile.
Until today I am not so sure if she was making a joke -a very bad joke indeed-, but for sure the rest of the bus trip to Siem Reap was not very relaxing for me.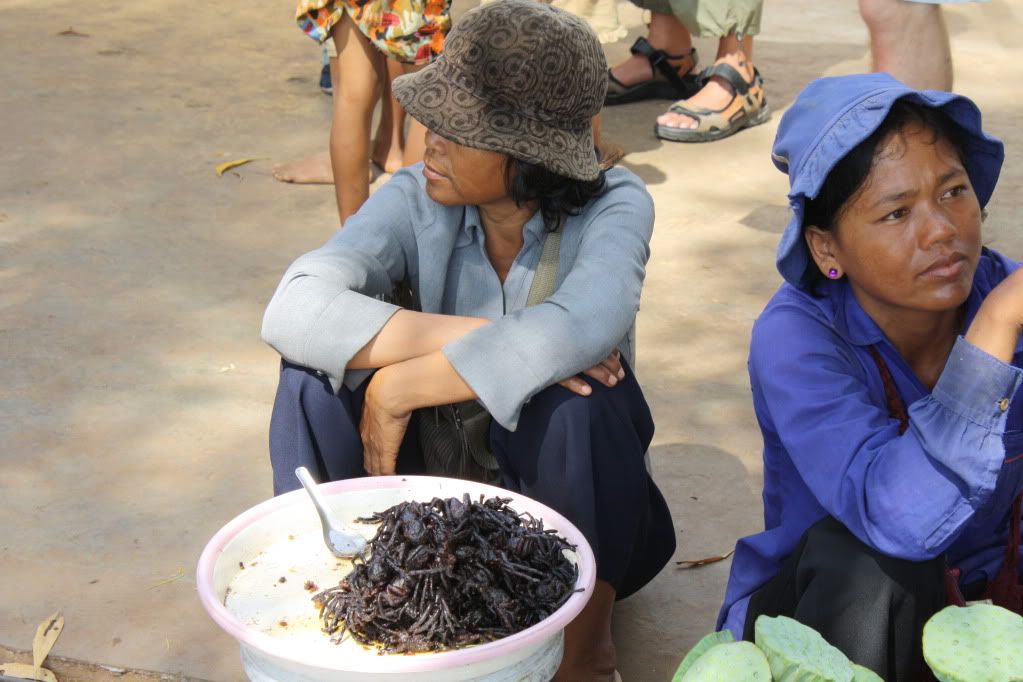 Copyright all on me.